♥THE BASICS:♥
Name: Katie
Age/Birthday: 17 April 14, 1988
Location: Massachusetts
Male/Female: Female
Sexual Preference/Status: (if you have a picture, show us.) Bi/Completely and utterly single
ummm...




♥ABOUT YOURSELF:♥
Describe yourself in three words: spontanious, loud, friendly
Name two celebrities you find to be gorgeous: eliza dushku, haydan christenson (spelling?)
Tell us something you've done that you regret: i dont regret anything...
Name one thing about yourself that most don't know: i used to smoke pot when i was younger
Tell us why you think you're gorgeous_ness material: because im HAWT!! haha..

♥TELL US WHO SENT YOU♥ (a user name would be helpful)
thorntoeachrose

♥PICK THREE MEMBERS THAT YOU THINK ARE THE DEFINITION OF GORGEOUS♥
if you don't know any, go to our members page.
______pink
alvinisapimp
beaut1ful0ne

♥MOVIES:♥
Here, tell us all of your favorite movies. No limit.
The Rocky Horror Picture Show
Bye Bye Birdie
Seven
Breakfast At Tiffany's
Ferris Beuler's Day Off
The Nightmare Before Christmas
Eternal Sunshine Of A Spotless Mind

♥MUSIC:♥
Here, tell us all of your favorite bands/singers. No limit.
The Blood Brothers
Etta James
Fiona Apple
Tool
Fear Before The March Of Flames
Underoath
Sound Garden
Fall Out Boy

♥THIS OR THAT:♥
Coke or Pepsi: Pepsi
The Beach or The Mountains: Beach
Music or Movies: Movies
Hott of Beautiful: Beautiful
Cheerleading or Ballet: Ballet
Flip Flops or Flats: (guys, ignore this question) Flats
Black & White or Color Photography: B&W
MTV or Vh1: Vh1
Britney Spears or Jessica Simpson: Neither
Marilyn Monroe or Audrey Hepburn: oh...my...god... you're making me choose?!?! umm...Audrey Hepburn
Jude Law or Brad Pitt: Brad Pitt


♥YOUR LAST CHANCE:♥
Here, tell us anything about yourself that we haven't yet covered. You MUST fill this out.
I'm a theatre freak, an actress, and i loove anything vintage or 80's

♥PROMOTION♥
Promote us in at least two places, and show the links.
http://www.livejournal.com/users/bluecheato/
http://www.livejournal.com/users/bitterkid/

♥SALUTE:♥
For an extra 25 member points, post a picture of you with a sign that says "yourusername @ gorgeous_ness"
This is not mandatory, it will just earn you extra points as a member.
yeah..i have no idea how to do that..


♥SHOW US YOU'RE GORGEOUS:♥
Here, post at LEAST 4 CLEAR pictures of yourself, a body shot, and a picture you'd like us to use for the members page. NO NUDITY. NO NOTHING WE MIGHT FIND OFFSENSIVE. Body shots are ok, by the way.

numberrrr one: random little picture of when i curled my hair...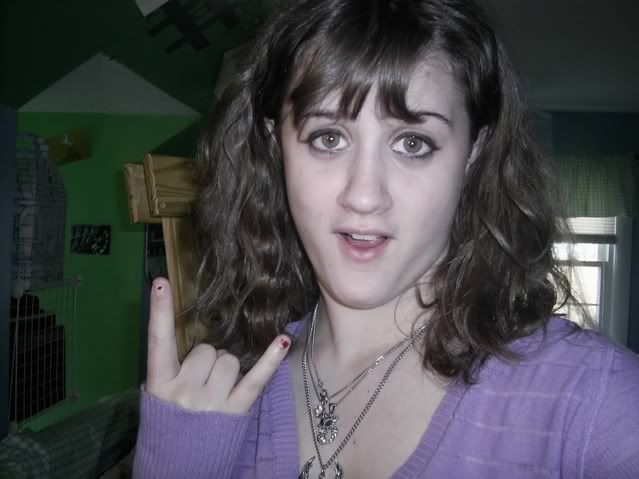 numberrrr two: BIIIG HAIR (unintentional)



numberrrr three: emo face



numberrrr four: random little body shot (lol, sorry if it looks bad..i didn't have anything else)



AND A SPECIAL TREAT!! numberrrr five: my tattoo



sorry if their too big